Meet Dr. David Evans
The Help He and His Sister Needed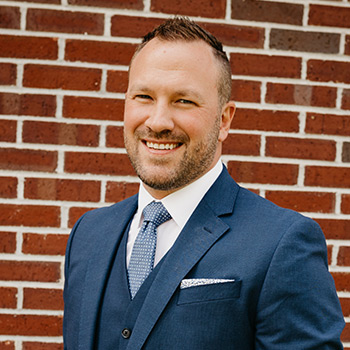 In sixth grade, Dr. Evans' twin sister was diagnosed with scoliosis. She began going to a chiropractor and he soon noticed the difference it made in her life.
Then, as a teenager suffering from migraines, Dr. Evans had an MRI and was recommended medications to take. While he didn't want to try that route, he went to his sister's chiropractor for a natural approach to relief.
Through the Graston technique and chiropractic adjustments, he found the relief he was looking for as well as inspiration for his career.
Dr. Evans knew that he wanted to be a chiropractor since eighth grade. He considered practicing neurosurgery, but then wanted to help people holistically, so they wouldn't have to have surgery.
Drugs and surgery have a time and place. If we can help people out before they need to utilize them, they'll be a lot better off.
A Family Chiropractor That Makes House Calls
Like many chiropractors, Dr. Evans, who graduated from Palmer College of Chiropractic in 2008, still has those patients that are skeptical of chiropractic care.
To calm their nerves, he gently reminds them that chiropractic care is safe, scientifically proven to be effective and can make substantial changes in your life.
With a special passion for pregnant women's health, Dr. Evans is certified in the Webster technique. This technique allows for the baby to get in the proper position for birth.
To help promote a great start to life, Dr. Evans willingly makes house calls for adjustments for newborns and their mothers.
OUR SERVICES »
Family Comes First
Dr. Evans has been married to his wife for over 10 years and the two have a lovely daughter together. He stays very active in sports, enjoying sand volleyball and soccer. He makes the most of the seasons in Fishers by snowboarding in the winter and water skiing in the summer. Serving at church, Dr. Evans speaks and participates in the choir.
Don't let pain stop you from living out your dreams. Contact us to learn how our services can help you change your life.

Dr. David Evans | (317) 595-9620