Chiropractic Care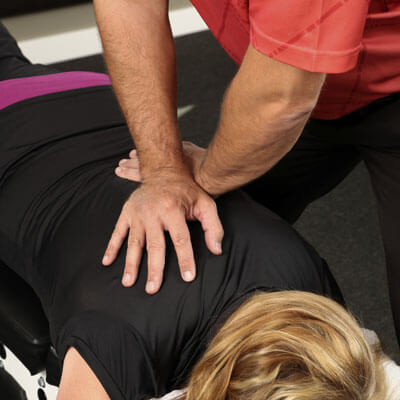 We understand what it's like to live in pain and how important your health is. After all, that's why we're here. We make care lighthearted while always ensuring you are in the loop about your health and in control. We ensure your comfort as we provide the best care possible.
With chiropractic care, acupuncture, massage therapy and physiotherapy available, we'll make sure you receive the proper care for your needs. Our chiropractors are trained in a variety of techniques and use their experience to personalize your care.
What an Adjustment Feels Like
With years of combined experience and safe, proven adjustments, Dr. Evans and his team will find the techniques best suited for you. For those that prefer not to be manually adjusted, we can do an instrument adjustment for you. We'll talk to you about how it will feel and also how the sound that you hear is gas being released in your joints.
You've tried everything but nothing worked. Contact us to experience how our safe and proven chiropractic techniques can bring you relief.
Our Chiropractic Techniques
Our chiropractic care is complemented by the following services
Interferential Current Therapy (IFC)
We use this special type of low level electrical current to stimulate supporting muscles of your spine, reducing inflammation and spasm.
Roller Table
We gently add motion to each vertebral joint to increase circulation, reduce scar tissue and enhance the effectiveness of your adjustments.
Spinal Decompression Therapy
This technique is used primarily for herniated discs in the neck or low back. Our specially-equipped table will ever-so-slowly stretch your spine. And then relax it. Stretch. And relax. Excellent for disc cases.
Ultrasound
This high-tech deep tissue "micro-massage" helps reduce swelling, increase blood flow, decrease pain, reduce joint stiffness and stimulate cell-repair.
VibraCussor®
The VibraCussor® is an adjusting tool that penetrates deep within the body tissues, stimulating your body's own healing properties.

Chiropractic Care | (317) 595-9620