Naturopathy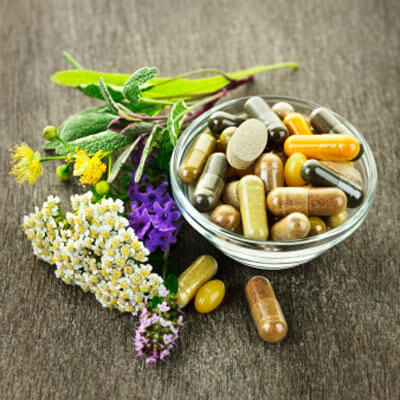 You may wonder what naturopathy is. This form of alternative medicine takes a holistic approach of bringing the body into balance mentally, physically and spiritually, and getting to the root cause of what the issue is. The reason why it's vital to bring the body back into balance is that when our bodies achieve that equilibrium, they're made and created to heal themselves.
It's no surprise that adopting simple yet powerful habits can help keep you healthy. We talk to clients about getting back to the basics of drinking enough water, getting sunlight daily, exercising each day and doing breathing exercises.
The Importance of Supplementation
While it's always ideal to get most of our nutrients from eating whole foods, supplements play a vital role in health. We offer various high-quality brands. As every client has different needs, we first determine what the root cause of their particular issue is. For example, two clients could come in with anxiety, but we may not give the same product because the underlying cause could be different for each person.
Taking a Preventative Approach
It's much easier to take a preventative approach to health instead of waiting for something to happen and then treating it. By building up your immunity through diet, chiropractic care, exercise and supplementation, you can fortify your body against sickness.
Why Dieting Doesn't Work
"As the word 'die' is in diet, I don't like the idea of dieting, I like the idea of lifestyle change better" said Amy, our Board Certified Naturopathic Doctor (BCND). While diets can work for a while, we recommend determining what the root cause of an issue is and then adopting a healthy way of eating that helps keep your body performing at its best.
We also recommend drinking the right kind of water, adopting the type of exercise that's right for you, breathing properly and other actions. By making these healthy actions part of your lifestyle they'll be sustainable and you'll be more apt to lose weight.
FAQ
Do you recommend that any of your clients read certain books on health?
Yes, but it depends on what they're going through. We provide a lot of information about what you're seeking help for. Amy will recommend certain websites or provide different handouts that address your particular health concern.
How is your approach to naturopathic counseling different from other area providers'?
One of the ways we're different is our naturopath will give you the attention you deserve. Especially during these interesting times, many people have anxiety. They may feel rushed at a doctor's office. But here, Amy helps put clients at ease. She will get to know you and find out what your concerns are and what your passions are. Then, she will provide her best recommendations.
"My passion is to help clients feel better and give them the time to heal," she said. Amy also will follow up with you and walk with you on your journey. You will have access to her expertise and can contact her with any questions.
Does insurance cover naturopathic counseling?
It does not.
Book an Appointment Today
Whether you'd like to lose weight, boost your immune system, address depression or are dealing with a serious illness, we are here for you. Amy provides compassionate naturopathic care that has resulted in amazing changes for her clients.
To take that first step toward optimizing your health, contact us today. You can either book a face-to-face appointment with Amy or schedule a phone consult with her.

Naturopathy Fishers IN | (317) 595-9620