Meet Dr. Jordan Burns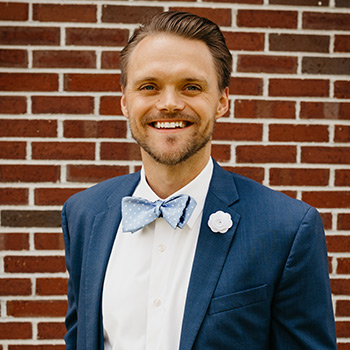 Born and raised in southern Indiana, Dr. Burns grew up in Oakland City. For many years, he participated in basketball, football, soccer, and track and field. It was his involvement in many sports that made him realize how his love for sports performance and fitness could lead to a career.
Experiencing the Power of Chiropractic
Dr. Burns attended Indiana University-Bloomington, where he received his first Bachelor of Science degree in Kinesiology. While being a member of the men's track and field team at IU, he suffered from back pain after a weight lifting incident.
After going to a local chiropractor, Dr. Burns was finally pain-free after his adjustment and was able to stand up. He decided to switch career paths after researching and experiencing the benefits of chiropractic care firsthand. Dr. Burns, who never liked taking medications, also appreciated that chiropractic is a drug-free approach.
Knowledge is Power
Dr. Burns then moved to St. Louis, Missouri. There, he attended Logan University-College of Chiropractic. Dr. Burns graduated with the following:
A Bachelor's in Life Sciences
A Master's in Sports Science and Rehabilitation
A Doctor of Chiropractic
While at Logan, Dr. Burns was accepted as a Senior Intern in the Biofreeze Human Performance Center, a clinic that specializes in sport-specific injuries and rehabilitation.
Board-certified by the National and Indiana Boards of Chiropractic, Dr. Burns has enjoyed successfully helping patients in pain. He uses a variety of specific chiropractic and therapy protocols. These allow him and his qualified staff to provide a gentle, effective approach to many conditions for people of all ages.
A Passion for Helping Others
I'm so passionate about what I do every day. In particular, I love helping people who have been everywhere else but haven't gotten the answers they need. I tell patients that they will not have another doctor that cares as much as I do.
A Patient Success Story
One of Dr. Burns' patients was a 21-year-old female who came in on a walker. The young woman was dragging her leg behind her. She had no feeling or any strength in her leg from the mid-thigh down.
Before seeing Dr. Burns, she went to the ER and had an MRI. The woman was diagnosed with a herniated disc on the MRI. The herniated disc was considered to be psychosomatic because the disc herniation wasn't bad enough for it to be causing this weakness.
The patient was told that something in her personal life must have been causing her issue. Dr. Burns started providing her with chiropractic care twice a day for two straight weeks. During every visit, something improved. By the end of the two weeks, the woman was walking again.
Practice What You Preach
In his personal life, Dr. Burns aims to practice what he preaches in terms of diet and exercise. He enjoys staying active by weight lifting, running and playing basketball. He also loves cooking. Dr. Burns cherishes spending time with his girlfriend, family and friends.

Dr. Jordan Burns | (317) 595-9620